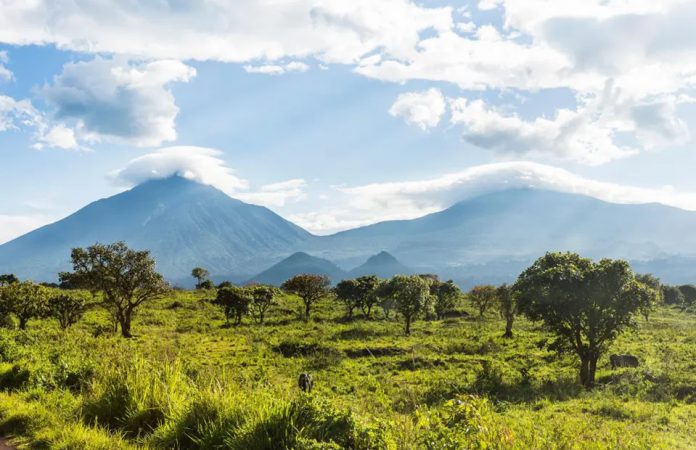 The Virunga Conservation Area (VCA) covers the Virunga National Park in eastern Democratic Republic of Congo (DRC), Mgahinga Gorilla National Park in southwestern Uganda and Volcanoes National Park in northwestern Rwanda. What is interesting about this area is that, they offer refuge to a number of incredible natural wonders which you can see on a safari in Uganda or Rwanda. A visit to the Virunga Conservation Area offers you a chance to explore a number of attractions that include among others;
Mountain gorillas
With about 1004 mountain gorillas that thrive on earth today, most of them are distributed within the Virunga Conservation Area and the other section thrive within the jungles of Bwindi Impenetrable Forest National Park. This makes this area an ideal area for gorilla trekking. In order for you to track mountain gorillas, you will need a permit and in Rwanda Volcanoes National Park permits cost $1500 per person, in Uganda-you need $600 to track mountain gorillas in Bwindi or Mgahinga National Park and in the DR Congo permits goes at $400 per visitor. In Mgahinga, visitors have only one habituated family to track and that is Nyakagezi while in Rwanda, there are 10 groups that have been habituated and readily set for visitor experience and in the Virunga National Park, about 8 groups have been habituated.
Golden monkeys
These are rare creatures that are worth exploring while you are on safari in this region. The golden monkeys thrive within Mgahinga National Park where you can embark on golden monkey tracking and also golden monkey habituation experience. In DRC and Rwanda, these creatures live within Virunga National Park and Volcanoes National Park respectively.
The magical Virunga Mountain ranges
Aside from wildlife, a visit to this region is also ideal for hiking experiences. The Virunga Conservation Area inhabits the 8 Virunga Mountains ranges. Two of these straddle within the Congo Virunga National Park and they include the most powerful volcanoes-Nyiragongo and Nyamuragira while others include Gahinga, Sabyinyo, Karisimbi, Bisoke, Muhabura and Mikeno.
The Batwa pygmies
The Batwa are renowned forest dwellers and believed to have lived in the forest for over 500000 years. Unfortunately, due to need to conserve the forest, they were displaced and now they vulnerable group around Bwindi and Mgahinga National Park.
The Dian Fossey tomb site
While on safari in Rwanda, the Dian Fossey tomb site is that one incredible places you to need to pay a visit to learn more about the Dian Fossey conservation legacy. She was a great primatologist and popular for her conservation work and efforts to save mountain gorillas. She conducted research on gorillas for about 18 years till she was unfortunately murdered by unknown people. However, her legacy still remains.
In summary, the Virunga Conservation Area is exceptionally one of the incredible touristic sites that you shouldn't miss to explore while on safari in Africa. While on safari in this region, there is a lot in offer right from mountain gorilla adventures, golden monkey trekking to hiking experiences a mention but a few.
This article is republished from the Mgahinga Gorilla National Park