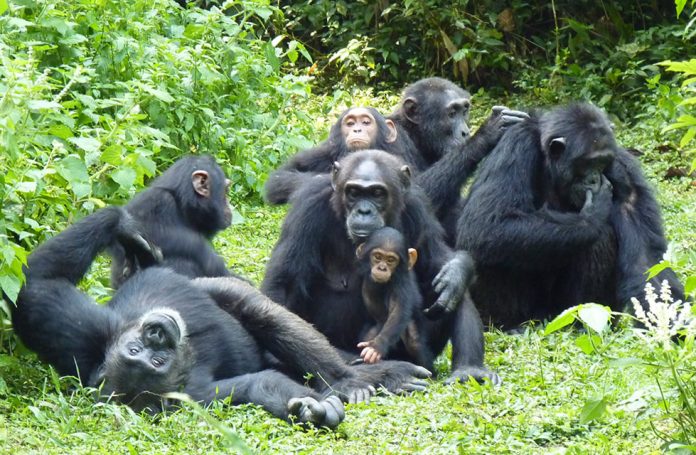 Evidently, primates stand among the incredible species that make up the highly appreciated rich Wildlife in Uganda's lush habitats.
Uganda is endowed with unusual habitats that consist of bamboo forests, marshes, Savannah, montane forests as well as thick tropical rainforests favorable to primates.
With this highlight, it's no surprise finding huge numbers of primate species on a visit including the chimpanzee primates. Chimpanzees are ranked the closet primates to human beings; this makes it unique from other Uganda's recorded primates.
You may be a person who really loves colliding eyes with the chimpanzees but still stranded on where to start from. You are not very far from arriving at the right destination, just in the Eastern part of Africa is Uganda with some destinations dubbed the primate capitals.
Plenty of travelers flock to Uganda for this transcendent experience (meeting face to face with the chimpanzees) including first-timers and others coming for the second time.
Since Chimpanzee tracking is more than chimpanzee encounters to several sights of other Wildlife species, meeting of locals, along with taking in sweeping views of landscapes, it's certainly an ideal adventure to turn your primate Safari in Uganda unequaled.
If you are still hesitating about Uganda's top spots to meet the great Chimpanzees, once in a lifetime, our list scrolls down.
Kibale Forest National Park
Among Uganda's chimpanzee hotspots, Kibale Forest National Park dominates with the highest numbers and the best to have unsurpassed primate encounters.
It is located in the Western part of Uganda near Fort portal town, home to 13 primates including the Chimpanzees. The Park is occupied by the evergreen Kibale forest that provides favorable habitats to lots of species.
You can easily get to the Park by road from Kampala via Kampala – Mityana – Mubende – Fort portal highway. Or it's possible to connect from nearby Parks like Queen Elizabeth National Park, Semiliki, Lake Mburo National Park and Bwindi Impenetrable National Park.
Chimpanzee tracking is the main activity offered in this Park in addition to Chimpanzee habituation along with some bird watching. Black and White Colobus, Blue monkeys, baboons, Vervets, Mangabeys and Red-tailed monkeys add to the list of primates in Kibale.
Chimpanzee tracking and Habituation experiences require permits, these permits cost $150 USD and $200 USD per person respectively.
Kyambura gorge – Queen Elizabeth National Park
Kyambura is positioned in the Eastern corner of Queen Elizabeth National Park, Western Uganda. It's also called the valley of Apes.
River Kyambura drain this gorge at its broadest point, 100 m deep. Visitors to the locality are often inspired by the diverse Wildlife together with spectacular views of vast landscapes. It's mostly occupied by Savannah and tropical rainforests that attract chimpanzee primates.
Kyambura gorge with its unmatched beauty, it's easy to understand why most of travelers consider it in their travel plans for Queen Elizabeth National Park.
An important note, Chimpanzees in Kyambura are hard to see during some periods mostly when there is the scarcity of food, they tend to move deep into the forest in search of what to eat. Therefore, if you are after seeing them on your trip to Queen, please time your visit according to the best time to see them.
Budongo Forest
Budongo forest, a habitat to a wide range of chimpanzee primates remains the biggest mahogany forest in East Africa. It is located in the northwestern of Uganda part of the legendary Murchison Falls National Park.
From Kampala via Kampala – Masindi – Gulu highway you can get to the suburbs of the forest within three hours. Dominated by mahogany trees, Kaniyo Pabidi and Busingiro Eco tourism site are the main tourism sites in the forest.
Most of the Wild animals in Budongo forest such as Buffaloes, Leopards, Lions, antelopes and more cross from the nearby central part of Murchison for the abundant vegetation.
Along with Chimpanzee trekking, travelers are impressed by nature walks via trails that crisscross the forest letting you get close to nature.
Ngamba Island Chimpanzee Sanctuary
Ngamba Island Chimpanzee Sanctuary is inclusive of the only two Sanctuaries in Uganda. It is located on an Island part of Koome group of Islands – Central Uganda. The main reason for its establishment is to provide home to the rescued orphaned and uncared chimpanzees.
Most part of the Sanctuary is occupied by Savannah grasslands, Swampy areas and dense jungles that offer favorable habitats to the Chimpanzee primates. Ngamba is located on Lake Victoria, therefore you can get there by boat from Nakiwogo landing site – Entebbe.
With its location on the waters of Lake Victoria, you can easily get there by boat, which sets off from Entebbe – Nakiwogo landing site.
Ngamba doesn't offer tracking experiences, Visitors participate in the different other activities such as caretaking, chimpanzee feeding and volunteering for two, three or even one weeks.
Kalinzu Wildlife Reserve
Kalinzu is tucked far away in the South western part of Uganda near the notable Queen Elizabeth National Park.
Not only famous among Uganda's Wildlife reserves, Kalinzu has all that to offer for lovers of nature and Wildlife.
It's home to 378 bird species, 414 tree species, 97 months, 262 butterfly species and six numerous primates including the Chimpanzees.
Over 300 chimpanzee primates inhabit the luxuriant jungles of Kalinzu but 40 are habituated and open to tracking experiences.
Besides chimpanzee tracking, visitors engage in nature walks via trails that wind through the stretching forests, rolling hills, and valleys. Nature walks rewards with scenic views of Kazinga channel, Lake George and peaks of Mountain Ruwenzori.