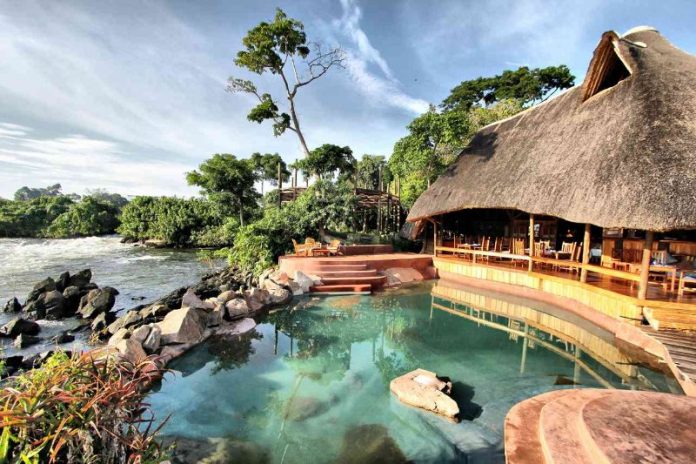 Would you like to plan a honeymoon vacation in Uganda? Do you know that it is possibkle to fuse this memorable holiday with a Uganda safari through different national parks and game reserves.
Why a Honeymoon vacation?
Honeymoon is a vacation spent together by newly married couple. Newly married couple need honeymoon vacation to relax as long season of preparing for their wedding. The couple also need a good time while on honeymoon vacation to engage in serious romantic relationship. Below are the tips or advise when planning honeymoon trips:
Choose a reputable tour company to customize your honeymoon tour. Its very important to deal with trusted tour operators because honeymoon tours are so sensitive and need to be organized with much attention. The tour operator will advise the best places, best accommodation, best photography centres, best tourist activities and best care takers among others.
Select categories of accommodation but your tour operator will be in position to advise. A luxury hotel or Lodge is suitable for honeymooners and excellent when situated near water bodies. Examples in Uganda include Jinja Nile Resort Hotel located near River Nile, Chameleons Hill Lodge and Lake Mutanda Resort which are situated near Lake Mutanda, Bird nest @ Bunyonyi Resort. In Rwanda, Emeraude Kivu Resort Beach, Lake Kivu Serena Hotel and so on.
Luxury tour is ideal – It's wise to choose a luxury tour for honeymooners. Luxury vacation involves staying at Luxury accommodation, Luxurious push cars, VVIP treatment among others.
Select the best places to visit – In Uganda, Bwindi Impenetrable National Park is among the most unusual honeymoon hotspot destination by lonely planet. In Rwanda, Volcanoes National Park and Nyungwe National Park among others are a must visit.
Select tourist activities – less strenuous activities are suitable for fresh married couple. Sit and chill activities, photographing, indoor games and a lot of relaxation among others. Cultural tours, Gorilla trekking, Chimpanzees but select simple treks.
Forest activities, picnic lunch, candle dinner and boat cruise among others are suitable for fresh married couple while on their vacation.
Order your suitable diet in advance – basing on your interest, choose your favorite meals. You can order local meals, Chinese meals, Indian meals and so on basin on your country of origin.
Romantic surprises are mandatory – your local tour operator can plan your surprise in advance. The surprise can be in form of gifts or any other form. The Uganda, honeymooners can be gifted with souvenir, cakes, flowers, rings and so on.
Add a budget for shopping on honeymoon trip. You can visit the souvenir shop to buy some items, flower shops, bars to buy alcohol and so on.
Evening entertainments through music, dance and drama performed by local residents. You can participate in dances, singing or playing music instruments among others.
Visit local communities and learn how they perform their daily activities like cooking, fetching water, collecting firewood and so on. Taste locally prepared food staff and learn who its prepared.
In conclusion, honeymoon vacations are prepared to celebrate weddings or introductions. For that case, honeymooners should be very careful during planning; choose a reputable tour company and make advance bookings to avoid regretting.