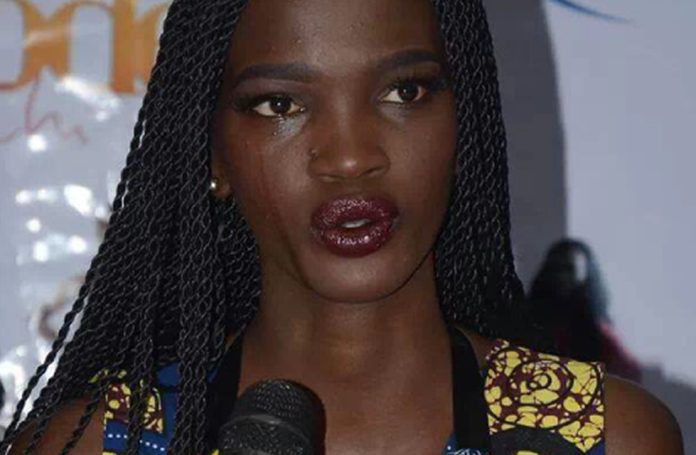 Aamito Stacie Lagum is a Ugandan model who won the first ever Africa's Next Top Model cycle one by Nigeria's Oluchi Orlando that took place in South Africa for a period of 10 weeks after which the finals were held in New York. Here is her interview with Daphne Ndahagire who caught up with her.
D: How do you feel Aamito?
A: I feel nervous and excited at the same time.
D: Who is Aamito as of today? Describe her.
A: Today Aamito is the same Ugandan girl who happened to win Africa's Next Top Model cycle 1. She'll try hard to lift the country's flag high and Joram Model Management agency.
D: When did you start modeling and what pushed you to that direction?
A: I started modelling in 2008, when I was 16 years. I took that direction because everyone had hoped and believed in me so i pushed myself even harder not to disappoint.
D: Tell us about your experience during your run for ANTMAfrica
A: For the time when I didn't do well, there was a lot of tears, nerve breaking and a lot of emotions.
D: Which of the girls was your tightest competition?
A: All the 12 girls were my competition because they were all beautiful and smart. When the competition had just begun, I feared Steffi from Kenya, she was outstanding.
D: How will your achievement as ANTMAfrica help the fashion and modeling industry in Uganda?
A: Winning Africa's Next Top Model is not only about me but about Uganda. It will make people in Uganda believe in the fashion industry here and take it more seriously.
D: What was your biggest strength in the competition?
A: Winning more than one challenge was my biggest strength.
D: What do you think made you stand out more, out of the 11 beautiful girls?
A: It was because of my personality, I am bubbly, humorous.
D: What do you hate about the modeling and fashion industry in Uganda?
A: It's not professional, people dont take the industry serious and it's one thing i wish would to change.
D: Have you received any endorsements here in Uganda yet?
A: Not yet but i hope to.
D: Looks like you cry every time whether sad or happy. In which other way do you show your emotions besides crying?
A: By laughing.
D: Apart from Oluchi and the DNA crew, which big fashion star did you meet in New York City?
A: The crew that works with Iman .
D: Would you consider yourself a bully?
A: Hell no! I am a very humble girl.
D: You have been in the Uganda modelling Industry for over 6 years and you've met most of the models, who do you think would follow in your foot steps to be the next Aamito Stacie?
A: For one to be a model, one needs to stand out, have different features. Am sure for the next Aamito, they will be looking out for someone new and fresh. If there came someone who looks just exactly like me, she wouldn't be taken because there is already an Aamito. But all the girls I know have a shot at it.
D: You're moving to New York city to start a career over there in modelling, what's your expectations?
A: New York is very professional, harsh, expensive. I am hoping for the best but again i have to stay realistic and true to myself and hopefully in whatever I do, I will try represent my country well.
D: You have come this far and you said you look upto Oluchi, do you also one day plan to start a model contest?
A: If its for business, why not? Its not really one of my aims but if the opportunity comes, I would try it.
D: Where do you see yourself in 10 years or less?
A: I hope to have done modeling enough to branch out to something else. i hope to become among the top paid models in the world.
D: Any awkward moment you got embarrassed in during your modeling career?
A: My scarf fell off when I was on the runway, it felt so uncool. I calmly picked it up, wrapped it again and continued with my walk.
D: What's your biggest regret in the fashion and modeling industry?
A: My life doesn't dwell in regrets. I am a very positive person and I thank God all has been good for me.
Spot on Questions
D: Beer or Whiskey?
A: None
D: What did you want to become when you were still a kid?
A: Lawyer
D: What do you do with change/coins?
A: Save
D: What animal would you have been if you were one?
A: Giraffe
D: Favorite movie you watched last…
A: Thor
D: Who would you wish to have dinner with in Uganda?
A: Yoweri Kaguta Museveni, the president of Uganda
D: What is the first thing you look for in a man?
A: Intelligence
D: What do you love most about Uganda?
A: The people, they're so hospitable
D: What do you hate most about Uganda?
A: The durst
D: What's your favorite place to eat?
A: Khana Khazana
D: Men or cars?
A: Cars
D: Tell us something people don't know about you.
A: I am very prayerful
D: What would you want people to write on your tombstone?
A: Jesus, i am not about to die, don't ask me about that!