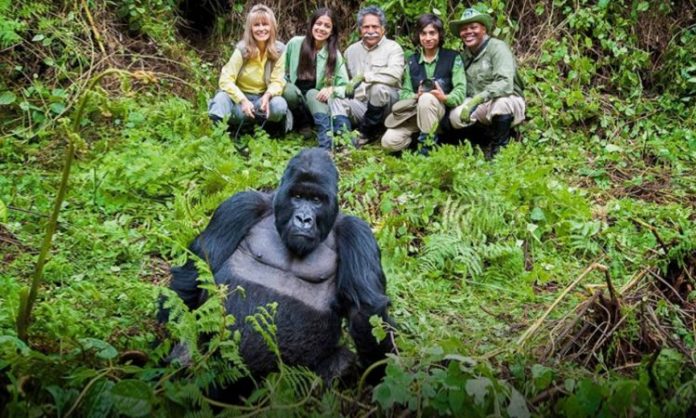 Gorilla trekking in COVID – 19 seasons is a feared ventures to some people. The Covid -19 pandemic paralyzed many of the tourist activities in Uganda forcing the Uganda government to put a temporary closure on primate tourism to prevent the spread of the virus. Gorillas are vulnerable to COVID-19 and so, strict observation of SOP is required.
Uganda re- opened up Entebbe International Airport on 1st October 2020 and commercial passenger flights have been coming and departing Entebbe since and a few tourists have started coming in for their planned gorilla trekking safaris through Bwindi Impenetrable Forest and Mgahinga Gorilla National Park.
Uganda also opened land boarders for tourists and waived the previous ban on movements to and between the boarder districts.
Therefore, now that the country is fully opened, people are free to move from one corner to another is a great hope to Uganda tourism industry. Therefore, the country received tourists from many parts of the world coming in for gorilla trekking, chimpanzee trekking, Tree climbing lions tour, boat cruise among other activities.
Preparation for Gorilla trekking in COVID time:
Do a PCR test within 72 hours before arrival at Entebbe International Airport? Please ensure that you have done the test and have authentic results since it has been discovered as it is being discovered that some people present fake results which in-turn affects their plans as entry will be denied.
Considering the different uncertainties that this pandemic presents and the various effects due to late cancellations, it is important to look into the different travel insurance options and get yourself the best travel insurance for your trip.
On arrival at Entebbe International Airport:
On arrival at Entebbe Airport, you are required to follow the set guidelines at the Airport and other entry points including washing your hands with clean water and soap, correct wearing of face mask to cover your mouth and nose, sanitize regularly and maintaining social distance of 2 to 4 meters.
After making all the clearances, your professional tour guide will be waiting to pick you up and proceed straight to your hotel in Entebbe / Kampala or transfer straight to Bwindi Impenetrable National Park or Mgahinga National Park basing on your travel plan.
Note: Through out your trip, the following Social Operating Procedure (SOP) are supposed to be strictly observed:
At the Gorilla briefing point, wash your hands with clean water and soap, sanitize with the satified sanitizer. Your temperature will then be taken and recorded. Those with temperatures above 37.5 degrees Celsius will not be allowed to proceed to the gorilla habitat.
While at the Briefing point, maintain a social distance of 2-4 metres to control the spread of COVID-19.
A small group of 8 people is maximum allowed to visit each gorilla family to minimize the spread of corona virus.
You are cautioned to wear N95, surgical mask or a cloth mask with a filter. Those with N95 and surgical masks are encouraged to carry 2 or more.
Since the walk is tedious, you will be given breaks to catch fresh air during the Gorilla trek and social distancing will be strictly observed.
When you are about to meet Gorillas, you will be instructed to sanitize your hands again before viewing takes place.
You are required to stay at least 10 meters away from the Gorillas during this period.