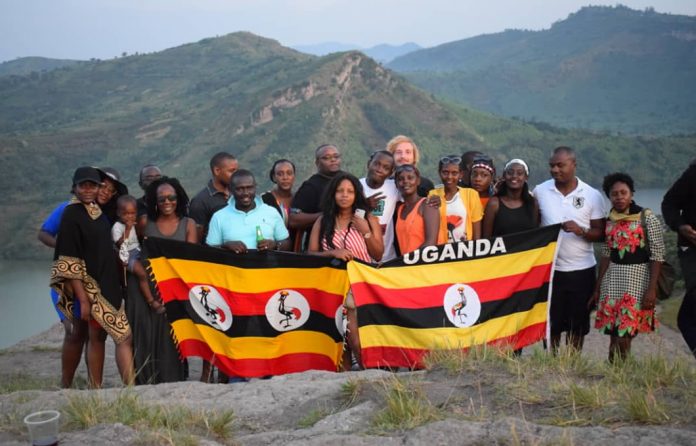 Ooh Uganda, the mighty land of mysteries and the only pearl in Africa, am not sure why it was not the Gold. We are very vast with literally anything and everything here in the pearl of Africa.
Uganda, in the great lakes region of the central Africa through the rift valley is the pearl of Africa. A landlocked country with fresh water lake bodies that will actually connect o some countries like Kenya and Tanzania.
Bordering Kenya in the west DRC, in the east Sudan in the north, Tanzania, Rwanda and Burundi down in the south: With a lot of tropical rain forests and different other systems like the savanna Uganda offers incredible vibrant wildlife that is harbored in these forests.
Uganda in the whole world has more than half of the world's remaining gorillas. And in no other African country where you will be able to see a variety of apes apart from Uganda. We are proud to have the mountain gorillas but much more than gorillas, Uganda is a home to many different primates.
With more than ten monkey species, baboons, gorillas, chimpanzees and more monkeys yes. We have monkeys like you can ever finish seeing. These go hand in hand with a thousand bird species, rich culture and most especially the Ugandans; – we were recently ranked one of the top friendly countries in the whole world.
We have got 10 gazetted national parks in Uganda for wildlife reservations and nature. Deep in the Bwindi Impenetrable National Park is a home of the Endangered Mountain Gorillas in their natural habitat is one of the most profound wildlife encounters you will ever experience.
Tree climbing lions of Ishasha in Queen Elizabeth National Park and a lot of wild life and chimpanzees in kyambura Gorge, trek chimps in Kibale Forest national park. Murchison falls National Park is the largest park in Uganda with almost a little bit of everything Uganda has aside from the Gorillas.
Kidepo valley nation park with most wildlife and cats, a home of zebras in the west pert of Uganda in lake Mburo national park and Mghaginga national park also a home of gorillas deep down in the south.
With too much wildlife seeing and trekking one can choose to visit the source of the Nile River in Jinja. Adrenaline junkies will find Jinja simply exhilarating; with its white-water rafting, kayaking and bungee jumping and having to dine with fish as you eat them as well. Here in jinja you will taste the big Nile perch.
The local rainbow dishes on the menu are spectacular with the luwombo as our highlight. In fact if you ever come to Uganda and leave without tasting it hmmm, I have a feeling you will definitely need to comeback.
The local gin, Uganda waragi: brewed to perfection and tastes just like the gin its self. With plenty of foods and fruits we get our local Gin from the local type of plantain specifically made for drinks, when fermented it turn into alcohol and just squeezed fresh is normal juice for everyone.
Lodges and hotels will woo you at the sight of seeing them; we have got the local traditional way of housing being incorporated in the modern daily life to give you that local feeling in the city. Actually you will find the great local experience of the 1900 as well as the5 start hotels here in Uganda.
Different cultures, different clothing's different foods, different languages as well as the different flora and fauna. Uganda is the land of contrasts and beauty. With all those brought different Uganda is one beautiful country you need to put on tour next travel destination for different reasons of travel. Am sure whatever reason you have for your safari in Uganda has it on its silver plate ready to serve you.
We invite you to explore Uganda, a diverse landscape with abundant wildlife, plenty to discover and unique experiences you'll struggle to find words to do justice to when recounting your time in this jewel of a country.
I whatever way you would love to travel in Uganda, self-drive, guided safaris, luxury Uganda gorilla safaris, fly in Uganda or budget Uganda safari. We have got you covered to the fullest because Uganda will, never disappoint you at all.