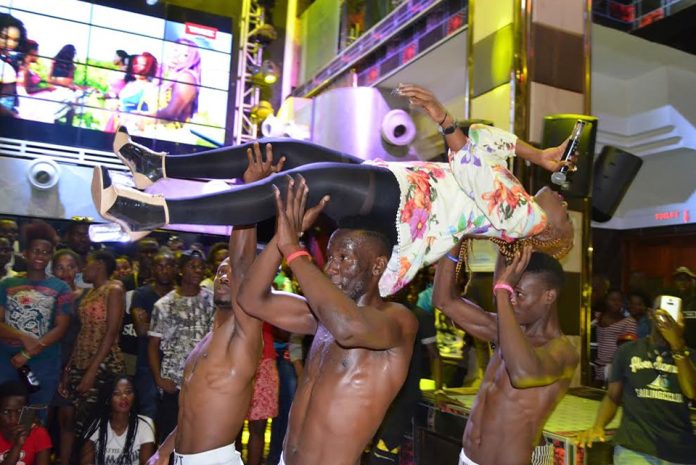 New girl on the block, Fattah Lilliana held her debutant mega show, dubbed the #FattahUnveil Party on Saturday 13th May at Club Ambiance, Bukesa.
The Fattah Unveil Party surpassed expectations as it had Club Ambiance filled to capacity with more than 1000 party people and music fans in attendance. Both the Club Ambiance ordinary and VIP sections were filled to the beam. About 300 revelers failed to get access to the Club as there was no more space to accommodate them.
Performances of the Night.
The Show kicked off at around 11:30PM with legendary DJ Shiru live Club mix. DJ Shiru had the fans 'eat from him palms' as he played and mixed hit after hit until 1:00am. DJ Shiru's special club mix was immediately followed by live performances.
The main performers of the night were Congolese Hip-Hop Artiste, also winner of 2017 HiPipo Music Awards Must Watch Artiste – Kizaza, Juju of Kwagala fame, fast growing singing duo of Jayman & T Paul, the extremely talented Hip-Hop Veteran Mulekwa Nampeera and the crazy-energetic performer Roden Y. Roden Y once again proved that he is the new stage king in town.
FATAH receives a resounding ovation!
Roden Y then ushered in the main act of the night; Fattah Lilliana. Together with Bullet Dance Group, Fattah stepped on stage and gave a 15 minutes performance of her life. She performed songs like Yegwe, Fire, Nduulu and Onjogeza. From the singing and dancing, it was clear that her and the dance group had rehearsed well and were ready for the night. At the end, Fattah received a standing ovation from adoring music fans who had with no doubt received value for their UGX 10,000 that each parted with.
Fattah Unveil Party was organized by MaMa Entertainment. Magic FM's Pauma was the MC of the night.