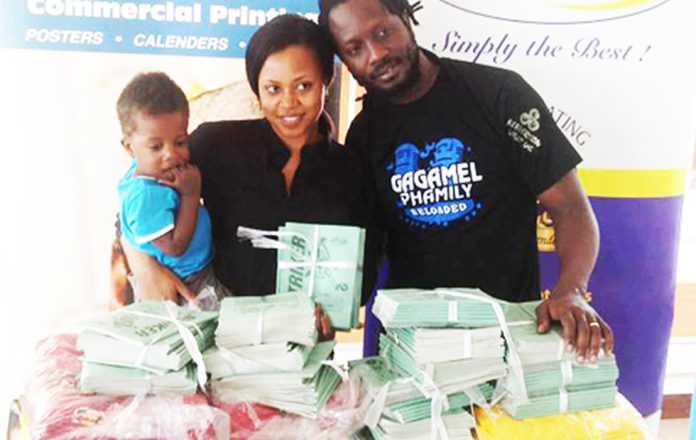 If there is any man who is very protective of his wife, then that is singer Bebe Cool.
Just a few years back, he fought a man in a city club for apparently touching his wife, Zuena Kirema's butt. Last year, he verbally attacked a journalist for writing what he called "a false story intended at tarnishing Zuena's image".
But that is not all. The Nyonyi Nkezze Saturday had a brief fight with Anti-Bomb police at Club Mega Fest, Namboole.
It all begun when Bebe Cool after his performance was joined by Zuena and the two sat next to the stage to watch Shaggy's performance.
After Shaggy was done performing, Bebe Cool and Zuena left their seats, probably to retire to their home and perhaps get an autograph from Shaggy!
However, Zuena stopped to say "Hi" to her friends but Bebe Cool hadn't noticed this. He continued walking. One of the bouncers realised her absence and quickly came back for her. But unfortunately Bebe Cool was caught up into a chat with some musicians who were back stage.
It is at this point that the bouncer attempted to get Zuena through a barrier which had been made by the police.
The police could be seen directing them to use another exit but they insisted and police pushed Zuena back together with her bouncer.
The bouncer tried to hit back and a scuffle ensued. It was at this moment that Bebe Cool who had been at a distance and unaware of what had been taking got to know that his wife is involved.
Like a wounded lion, he rushed towards the officers and tried to go for the one who was commanding them but he was restrained by the junior officers. He was joined by other Gagamel members but they took were repelled by what police had at hand: Batons.
Bebe Cool and police discussed for about 20 minutes and the Musician and his camp was let through.
Earlier on, this was the entrance and exit to musicians. However, police at 2am took over control of the stadium and stopped all the people who were backstage from crossing to the Entrance/Exit apart from those who were on stage: Shaggy and his group.